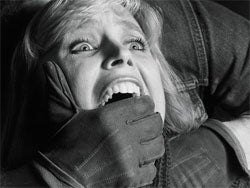 ABC News online has just posted a 7-point story about how women can protect themselves from "surprise attacks". Included: Tips we knew about (scream, carry a whistle on your keychain); tips we didn't (use your car antenna or windshield wiper as a weapon); and one REALLY helpful blanket suggestion (be "conscious of your surroundings"). We have seven suggestions of our own:
1. Don't scream "help!" If history is any indication, it doesn't so much work for chicks. Instead, try "Fire!" or maybe "Larceny!" People hate it when their property is endangered.
2. Fingernails: Always helpful for gouging eyes, tearing testicular tissue. Not that we'd know!
3. As recent events have illustrated, sometimes privileged, well-adjusted athletic fraternity men do not actually have a deep-seated desire to attack you. However: we went to high school with this kid, so we're staying away anyway!
4. Rapex