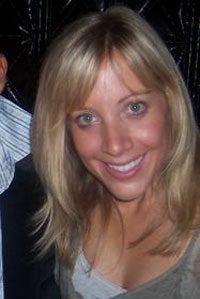 Last Thursday I had a date with Sarah DiMuro, the 30 year old virgin-on-hiatus from her role as the Jane Magazine 30 year old virgin. We didn't have sex, though she gave me a hug (I think I initiated it) but she's not the kind of girl you really want to hug, not because she isn't warm and genuine, but because she's really fucking skinny — like, sub-100 pounds skinny, and I didn't want to break her with any help from my tremendous heft. Of course, she's also one of those skinny people who will make the flagrantly-false statement "But I'm the same size as you you!", which is the sort of assertion so absurd that anorexics know not to make it. So I'm going with "naturally thin."
Sarah had some chips and a giant margarita at the cheesy Mexican place at which we met (her choice, but she was apologetic!) which was enough to give her some calories, but not enough to make her puke. Anyway again! Abstaining from FOOD isn't this girl's disorder! Sex is, or rather, how she still hasn't had it. Sarah is not only pretty - violent acne kept her away from men for her first 22 years, but her skin is utterly flawless now, little whore! — she's funny. Funny enough that she does stand-up comedy, which is how this whole Jane thing originated, as a stand-up routine that sort of, needless to say, spiraled out of control.
Because I was looking for a long-term relationship with Sarah and not a one-night stand (translation: I = a pussy) I did not ask certain things of Sarah that were on my mind, like where she'd been sexually on the 1st-to home-base scale, or if she'd allow us to have her hymen tested [Good god. -Ed.], or if she was one of those virgins who was paranoid enough to have been tested for HIV the first time she felt a penis. She offered that she enjoys porn, but I didn't watch any with her.
At this point, I must say, I was pretty drunk, but I do remember that over the course of the evening Sarah kept reminding me of all the facts one could glean about oneself if one were so resourceful as to type a name into Google. This is not the fault of either of us: I have an almost preposterously Google-able name. If I dated curious, ambitious, thin types like Sarah DiMuro, instead of the fleshy, slacker-drunks I so clearly prefer, I might be forced to have actual conversations with people, about things I have written, which would be tolerable if my drunk mind had any concept what its sober counterpart was up to during the day. (I wrote a story about Dave Chappelle? Really? I knew I liked that guy..)