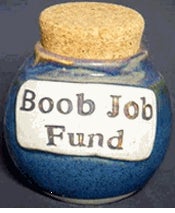 You know how in really awful wars, doctors treat the least serious injuries first? So at the end of the day they have the highest number of healthy troops on the battlefield? Well, the website MyFreeImplants — which purports to be a "matchmaking" service between women who want boob jobs and breast-friendly benefactors — is sort of like that, only with regards to the urgent, global epidemic of poor self-esteem among women:
And remember... the best part is seeing the newly transformed ladies after the surgery when they return to the website to post pictures of the results. You can take pride in knowing that you helped her improve her self esteem and self image!
Because, like, why give to, like, battered women's shelters or Oprah's school or whatever when you make a real, palpable difference in the happiness and self-actualization of so
many
women just by wiring them a couple grand for some silicone and see the
results
in a matter of weeks? (Like,
both
of them!
Without a bra!
) It's like sponsoring a child in Africa for a month!
An Interesting Way To Finance Your Breast Implants
[Plastic Surgery 101]