*Inspired by Shirley MacLaine's assertion that the best parts for actresses fall into one of the above categories.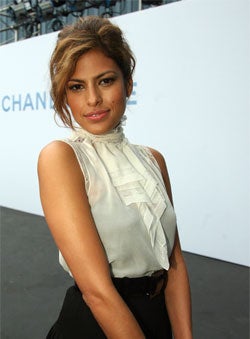 Eva Mendes has a new gig! (Besides looking posing seductively at pretty much any party she gets invited to.) The buck-toothed actress (
she said it
, not us) will be starring in the upcoming film
Curve
in which she'll play a young woman struggling to survive "when she finds herself at the mercy of a psychopathic killer after taking a detour into the backwoods of a remote area outside New York City." Good to know that owning a healthy set of lungs is still a requirement for leading ladies in Hollywood!
Mendes To Star In 'Curve' [Variety]
Earlier: Jessica Biel To Strip For Stardom, SAG Award