We're not convinced that masturbating to the beat of Twisted Firestarter is a sure-fire path to orgasmic ecstasy, but just in case, here's the new kid on the sex-toy block: The OhMiBod.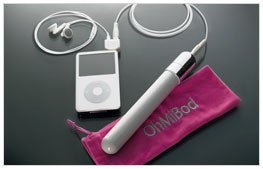 It's pretty straightforward, you stick one end in your iPod, and the other in your vagina, and you're off and musically-coordinating your orgasm. Rampant Rabbits are hereby declared over.
OhMiBod vibratorhttp://www.theliberator.com/products_toys_...