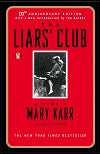 New York real-estate is expensive, and a good apartment is about as hard to find within the five boroughs as a good man. Perhaps that's why Brooklyn couple Simon and Chana Taub, according to Esquire, decided to construct a 14-foot wall in their Brooklyn brownstone rather than have one of them move out.
Instead of an all-or-nothing situation, each Taub has half a home...Simon gets the side entrance, the first-floor living room and bathroom, plus the dining room on the second floor that he shares with his 16-year-old son. (He recently added a staircase on his side). Chana and the couple's other children live in the top half of the house, which includes four bedrooms, three bathrooms, a second-floor kitchen, a spiral staircase and a nursery.
We were reminded of an anecdote in one of our favorite books, Mary Karr's The Liars Club, about Mary's great-uncle Lee, who has his house sawed in two rather than get a divorce from his wife.
Unfortunately, seeing that Karr's book is full of cursin', fightin' and drinkin', we doubt the Orthodox Taubs took it as their inspiration.
Divorce Is For Suckers! [Esquire]

The Liars Club