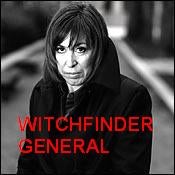 It's the question bouncing around the webosphere today: Britney - victim or deranged slut?
Looks like the NY Post, for one, just can't make up its mind.
Details after the jump.
We kind of like Cindy Adams, even if we haven't a clue what the old dear is burbling on about half the time, but we especially warm to her today as she defends the troubled singer, and nobly forgoes the term 'pop tart':
"Oddly enough, Britney the Baldie is not neglecting the kids as much as it seems. There's a bunch of qualified caretakers for the two children, and she spends daytime with them until she goes out. Or passes out. She does not leave them behind when she hits New York or Vegas. She's not neglectful and does worry about their well-being, even if she's screwed up her own. It's her mother who can't handle the child she brought into the world."
Nicely put Cindy, even if you DO end up rather predictably blaming the mother. Hey, last time we checked Britney's dad was still alive, so why not go after him? It takes TWO to tango your way to a drug-addled bald popstar daughter. Still, good effort.
But just when we think our misogynist friends at the Post have gone all soft on us, Andrea Peyser comes to the rescue with the kind of vitriol that could strip paint from your porch at twenty paces: