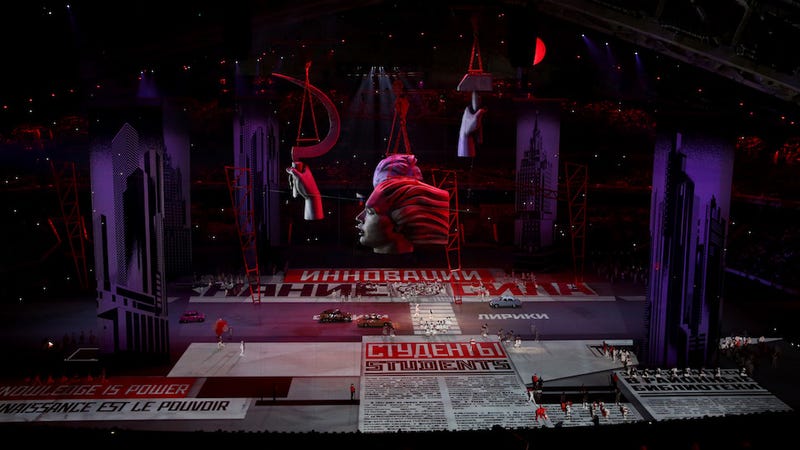 Along with the fantastic feats of athleticism, the Olympics are always a veritable festival of drama and weirdness. And while Sochi has taken this reality and really run with it in the lead-up to their Winter Games, the Opening Ceremony also delivered on Russian-style kitsch and awkwardness. Observe, below, pictures of the dozen or so weirdest moments from the Opening Ceremony.
Russia's achievements in space were also celebrated - the USSR's Yuri Gagarin was the first man in space in 1961 pic.twitter.com/3jXK5swFpc

— BBC World Service (@bbcworldservice) February 7, 2014
Who doesn't love observing Communist history (see lede picture as well) through rose-colored glasses? As comforting as a Soviet propaganda poster.
'Pseudo-Lesbian' Duo tATu Performs at Winter Olympics Opener http://t.co/DPm8M4Rnlw via @mashable pic.twitter.com/bS1U80IhNc

— Jim Roberts (@nycjim) February 7, 2014
Now for some contemporary Russia greatness - tATu!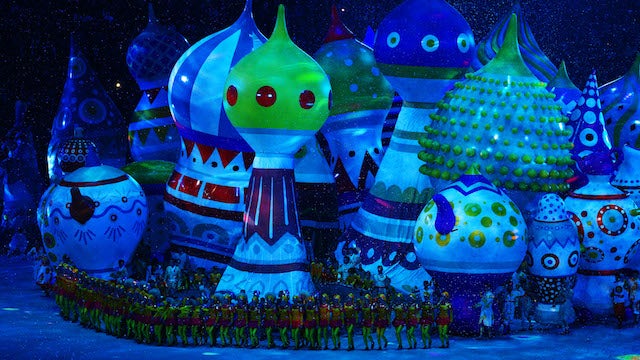 A tribue to Russian architecture or a bad acid trip?
The Olympic rings failed spectacularly during the #Sochi opening ceremony http://t.co/aHrfMzNZrN pic.twitter.com/cvvZZarica

— The Verge (@verge) February 7, 2014
The Olympic rings are winking at us!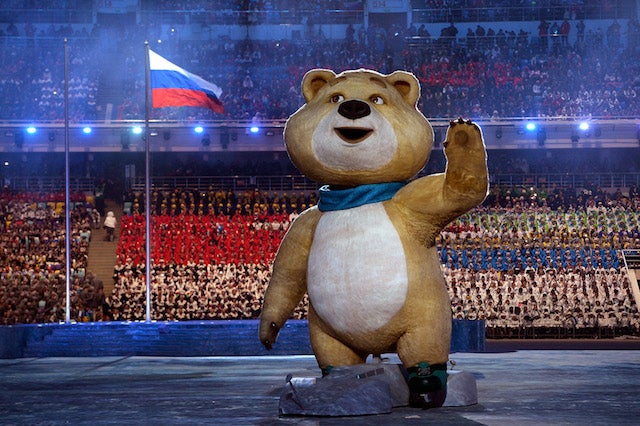 Terrifying mascot.
Stray dog sighted at #Sochi #Openingceremony. Apparently eluded exterminators. http://t.co/keKtfvUhHs pic.twitter.com/rwdJMR6yUR

— Jim Roberts (@nycjim) February 7, 2014
One stray dog that survived the pre-Olympic purge. :) /:(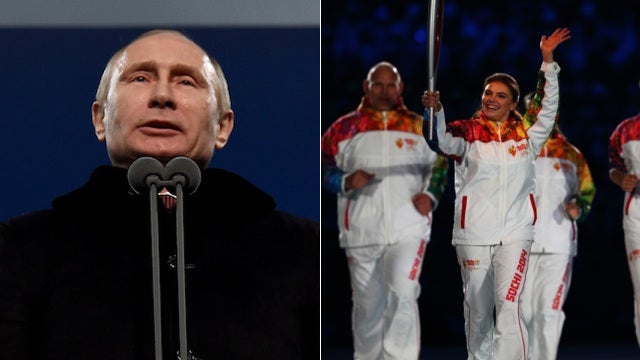 On the left: The Dark Lord Putin himself, looking like that garbage monster from Spirited Away. To the right is rhythmic gymnast, politician and rumored Putin mistress Alina Kabaeva. Another rumor has it that she's only made it into the ceremony as one of Russia's top Olympic athletes because of her proximity to the Russian president.
Germany's rainbow outfits are interpreted by some as silent criticism of Russia's anti-gay laws - Germany denies this pic.twitter.com/KIFfnGf46i

— BBC World Service (@bbcworldservice) February 7, 2014
It's weird to show up with rainbow uniforms at a Olympics run by an anti-gay country, and then deny that there's any relationship right? No matter, that foreground woman's headdress is awesome.
Images via Getty.