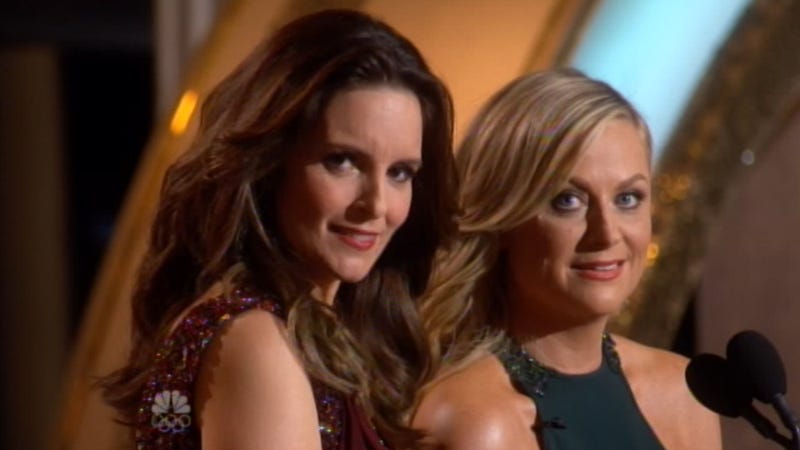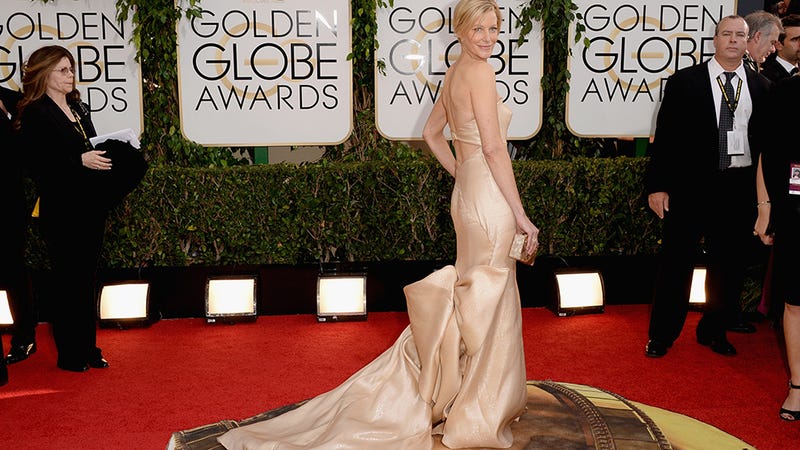 One of the biggest parties in Hollywood is about to begin. Are you ready?
From 6pm til 7pm we're going to watch red carpet coverage on E!; at 7pm we'll swap to NBC and at 8pm the big show begins.
6:01 First Ryan Seacrest interview: Zooey Deschanel. She's got a flower in her hair and daisies on her nails.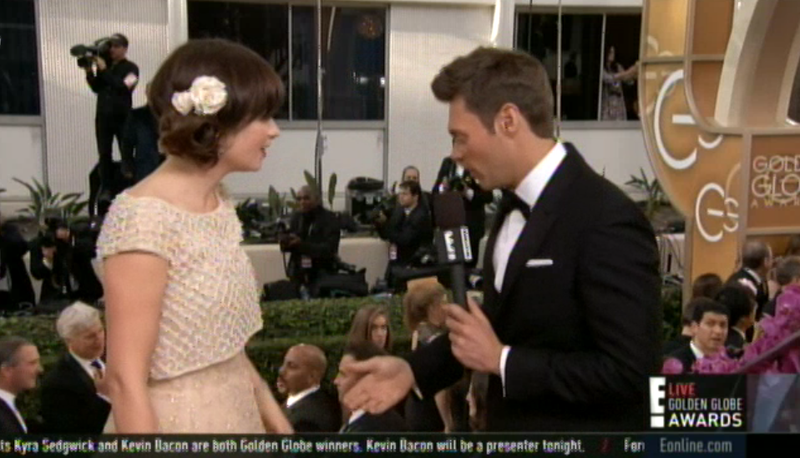 6:05 pm Hayden Panettiere and Kelly Osbourne are both doing slick hair tonight. Kelly has already had some dress drama.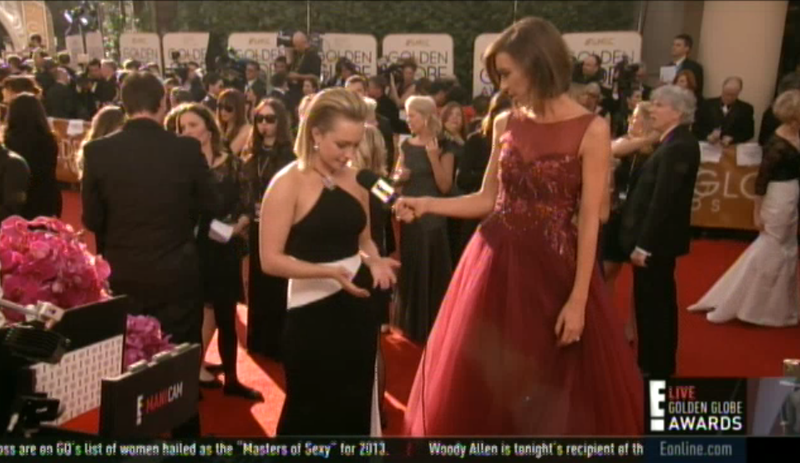 6:11 Apparently there is a Vine booth on the red carpet. A booth that just makes Vines. We're living in the future, people.
UM…
So... A sewage pipe just burst and is flooding the red carpet. Fun

— Mario Lopez (@MarioLopezExtra) January 12, 2014
Giuliana has some MASSIVE diamond earrings.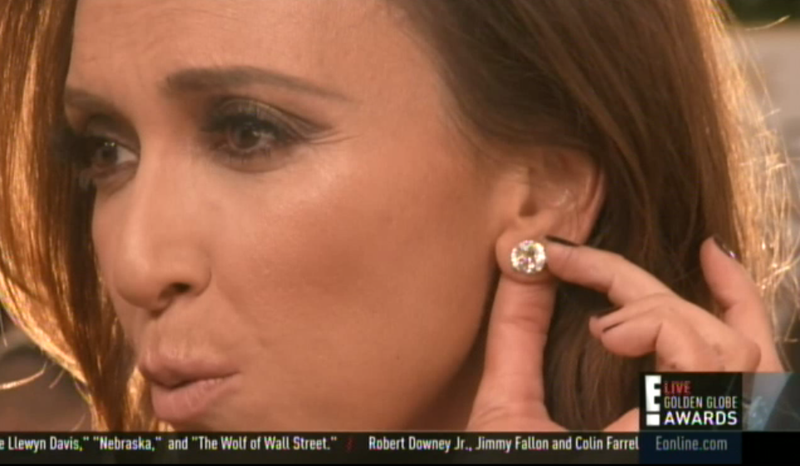 From a story about the sewage spill:
We can confirm that there was a malfunction with a sprinkler near the red carpet. The situation was quickly resolved. Despite the incident the red carpet will open at its regularly scheduled time. As some of the biggest names in entertainment are scheduled to attend the Golden Globe Awards tonight, we wanted to give the carpet one last wash before it opened.
As Ryan Seacrest points out, wet carpet + couture gowns = HOT MESS. (I'm paraphrasing.)
6:21 Sarah Hyland is doing milkmaid braids. She says she and Taylor Swift will be hitting the after parties. You're not invited.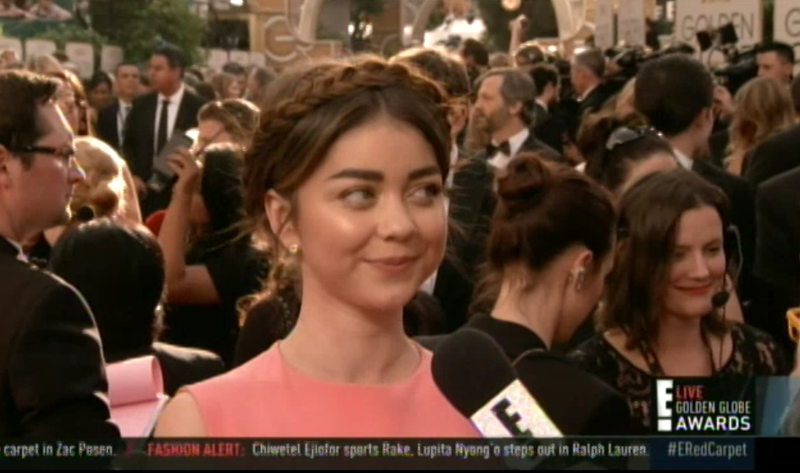 6:27 Yes. Lupita. Thank you.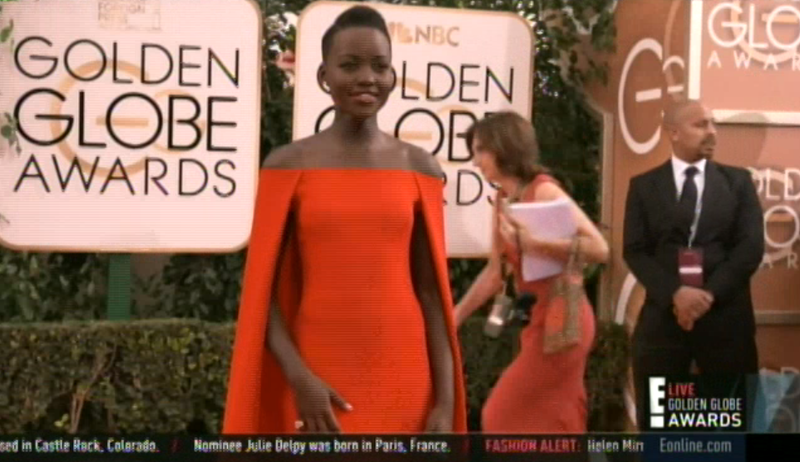 6:32 Lena Dunham says she's been "starving for days" but that she just ate a patty of hamburger meat. She also says she can't make an S with her body the way she's supposed to.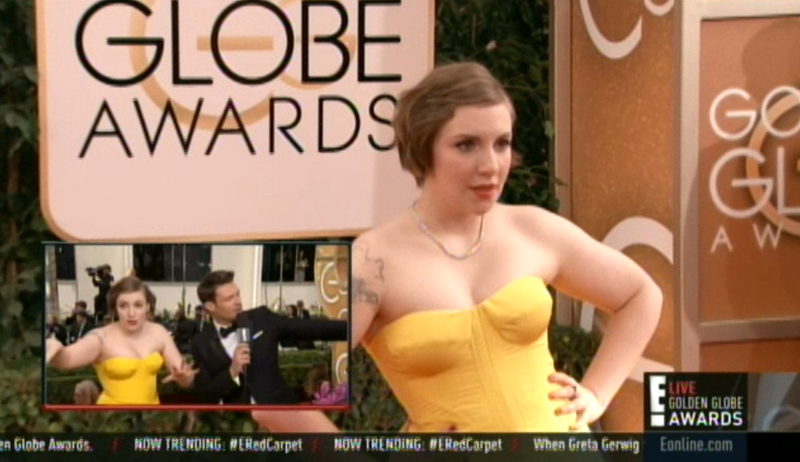 6:33 If your TV just exploded it's because Lupita Nyong'o is a burning hot firecracker. Stay calm.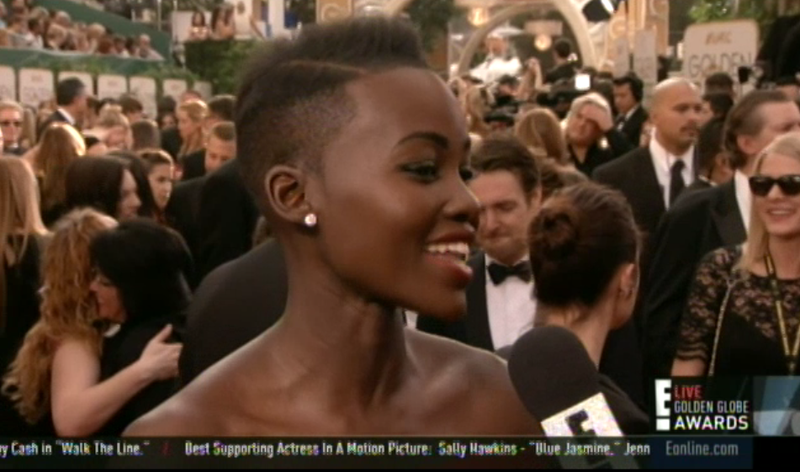 6:39 Elizabeth Moss just flipped off the mani-cam.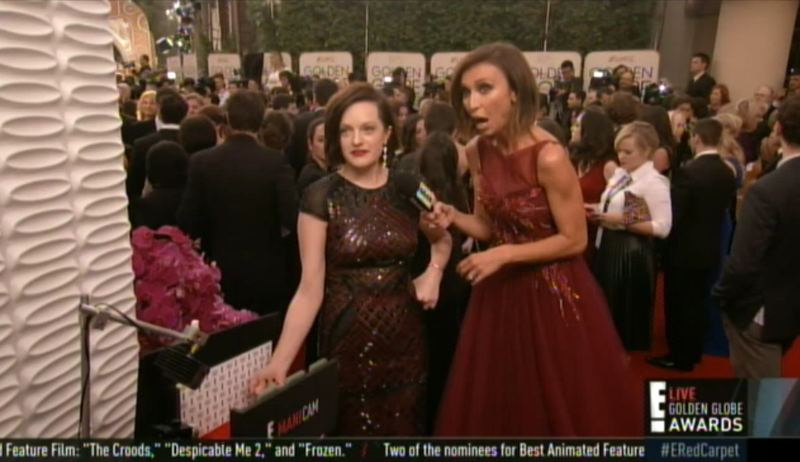 6:44 Amy and Tina! Apparently the first six minutes of the show are going to be something special. Tina claims that she can't walk in her dress so she's going to roll down the stairs like Leo DiCaprio in Wolf of Wall Street. Amy says that's because they're both on Quaaludes.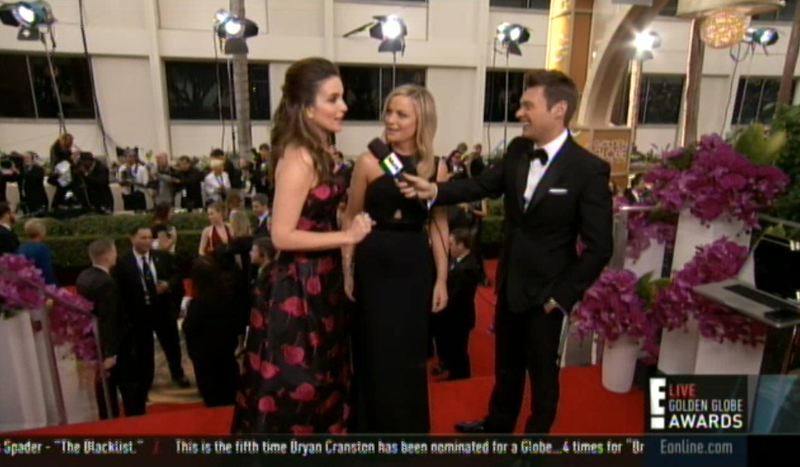 IS THERE SOMETHING IN MY TEETH HOLLYWOOD pic.twitter.com/xJCwiiN7AE

— Aubrey Plaza (@evilhag) January 12, 2014
6:50 Leo has arrived!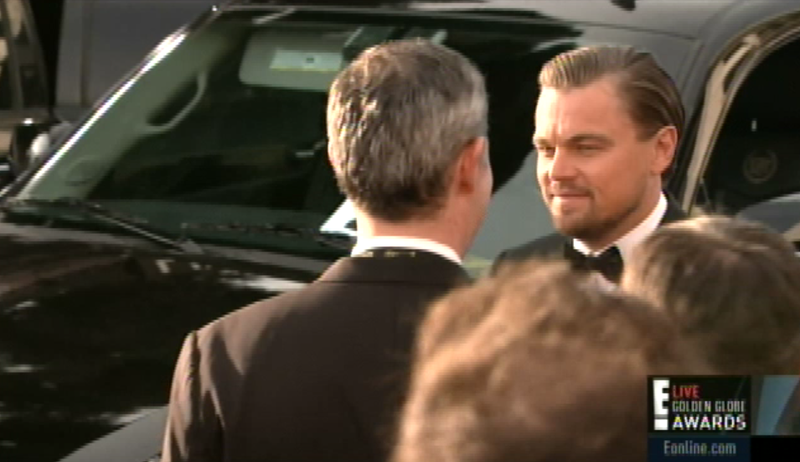 this is in no way a FUN fact pic.twitter.com/uJ9zSVuEwy

— Amanda Lucci (@alucci) January 12, 2014
6:56 I am really into Amy Adams' hair.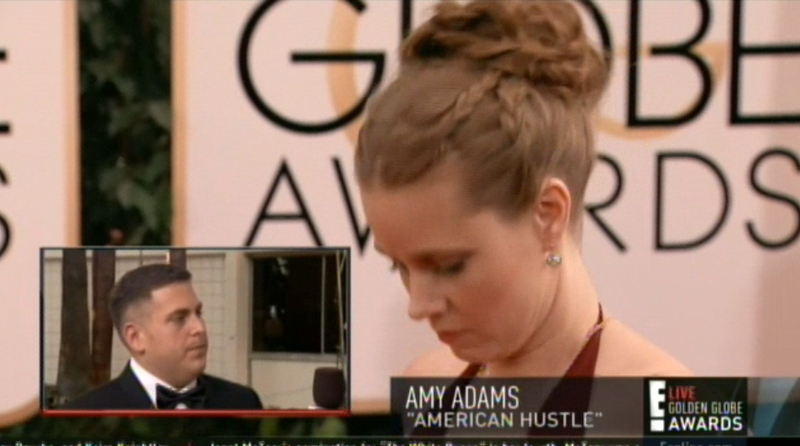 ALERT ALERT ALERT Pregnant Kerry Washington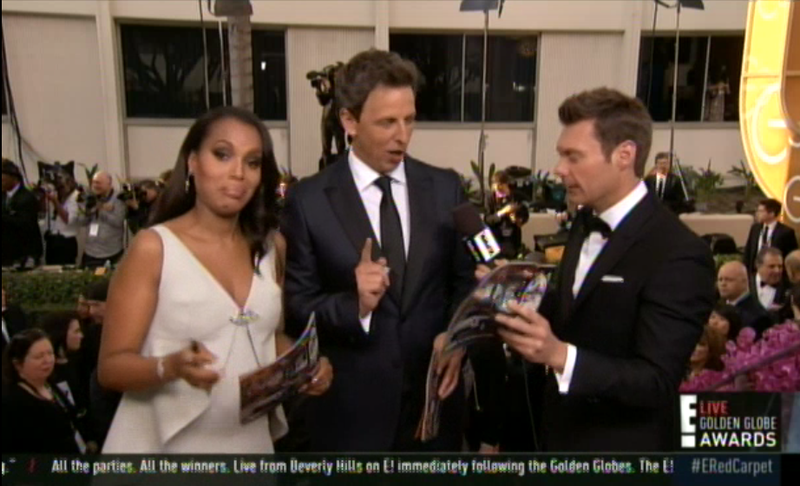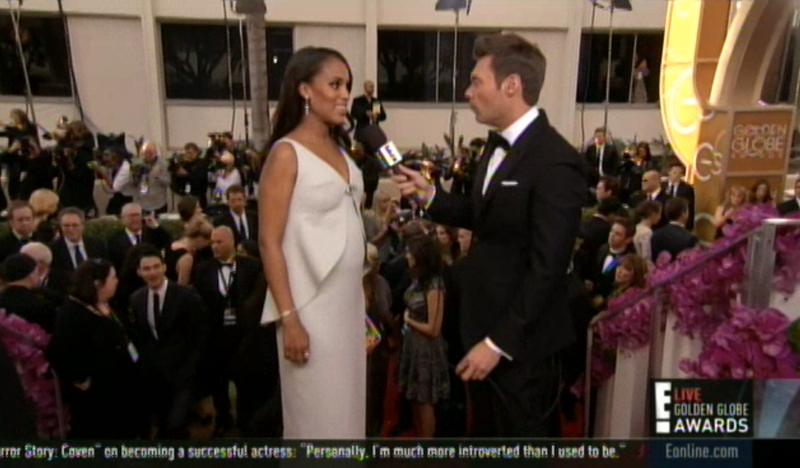 On the way to Globes w/@azizansari (nominated for his powerful work in August: Osage County)! pic.twitter.com/hHkjsdJENI

— Rashida Jones (@iamrashidajones) January 13, 2014
"Your first album was really good," Cate Blanchett to Bono. I heart her. - J

— Go Fug Yourself (@fuggirls) January 13, 2014
7:10 Bradley Cooper is very tan. He looks rested and gorgeous. Where have you been hanging out, Bradley Cooper? In the Caribbean? Why didn't you take me with you?
7:12 Meanwhile. over on NBC, Zoey Deschanel told Carson Daly she had a cookie for breakfast.
7:17 Guys. Jared Leto's hair. The flowing man bun.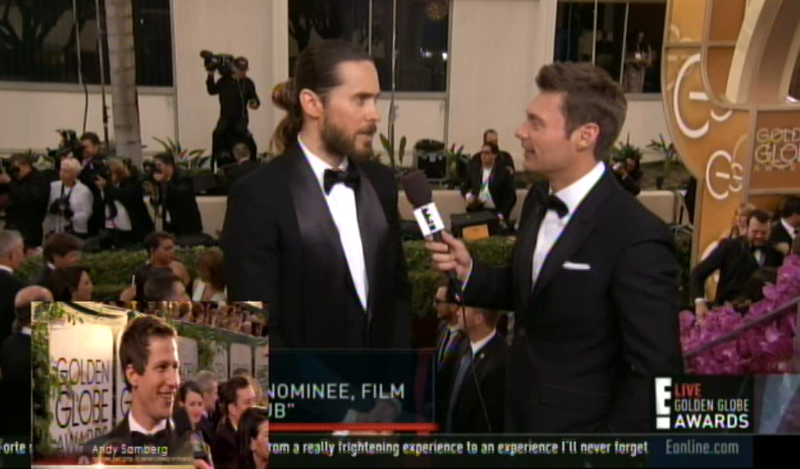 We're ready! Moms dress by #AdriannaPapell and me in @armani pic.twitter.com/jtp1UnKwMN

— RJ Mitte (@RjMitte) January 13, 2014
I can't wait to see what everyone's going to wear for the Golden Globes!

— Britney Spears (@britneyspears) January 13, 2014
Love that I am watching arrivals in sweatpants and no Spanx surrounded by babies! Popcorn and wine come next!

— shonda rhimes (@shondarhimes) January 13, 2014
7:25 Olivia Wilde — who is pregnant — on getting dressed: "I've never had boobs before."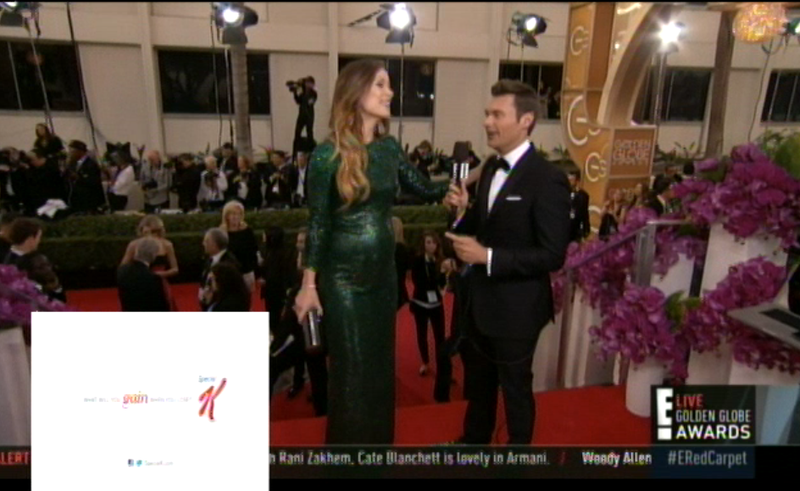 7:27 Drew Barrymore just mouthed the words "I love your hair by the way."
7:28 Julia Roberts is wearing black and white… She's chosen that palette before.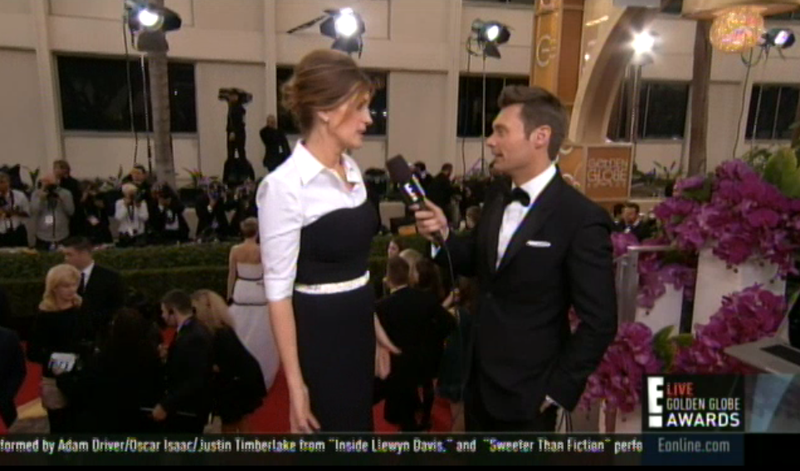 7:29 Taylor Swift's Carolina Herrera dress: Not feeling whelmed by it.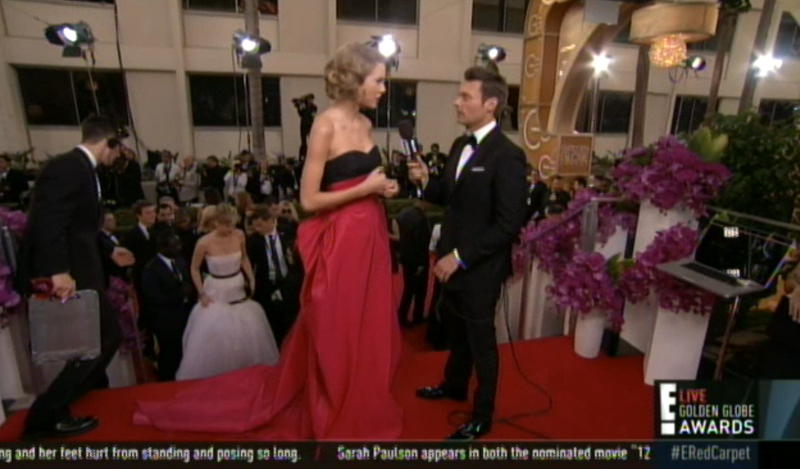 7:31 Jennifer Lawrence to Taylor Swift: "I was going to push you down the stairs…"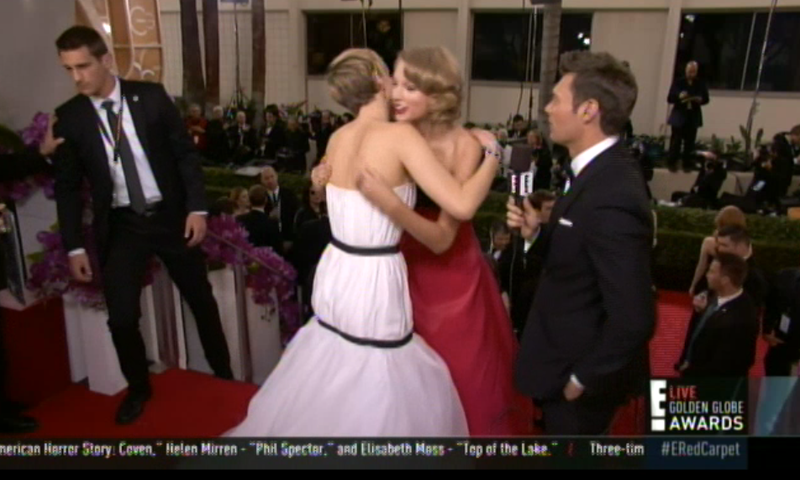 Here's a gif of JLaw creeping up on TSwift. Delightful.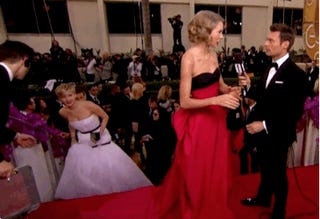 I hope I don't get sewage on my dress. @LauraPrepon pic.twitter.com/Hmmu7FO3ZP

— natasha lyonne (@nlyonne) January 13, 2014
Zoe Saldana's ring: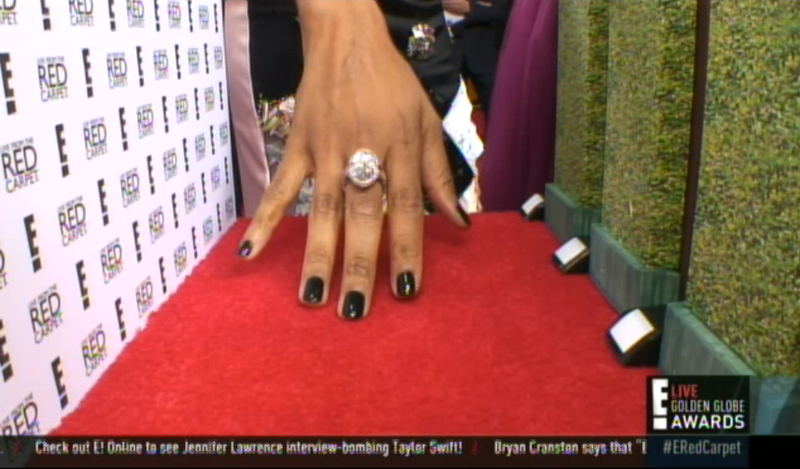 In case you missed it: Jennifer Lawrence's bracelet fell off!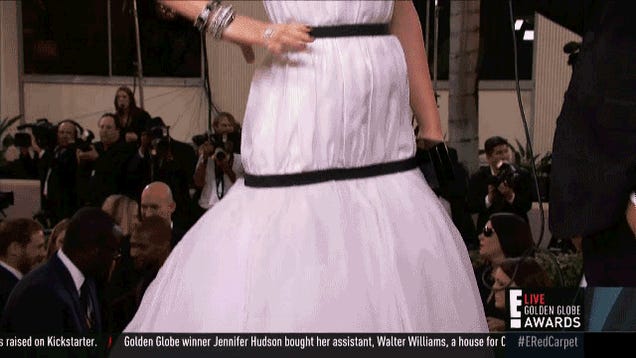 Sofia Vergara: "My dress is so big it's like a tent… I am smuggling Colombians underneath."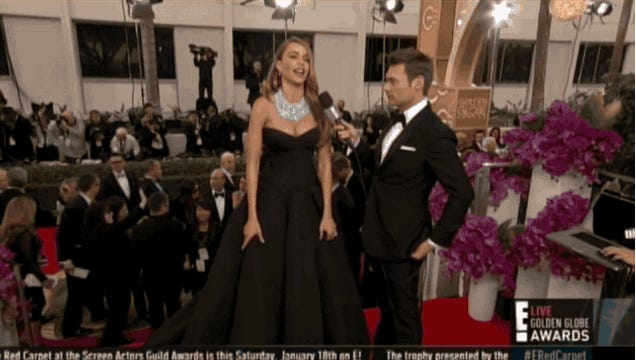 Ok the show is starting!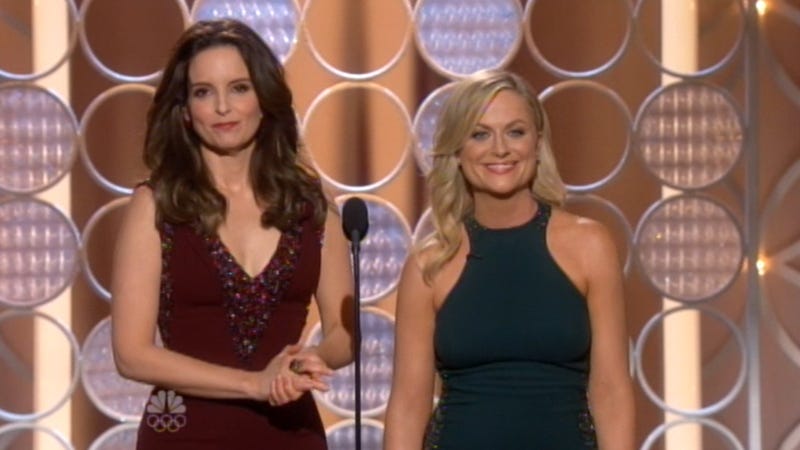 8:03 Meryl Streep makes the best faces. The best.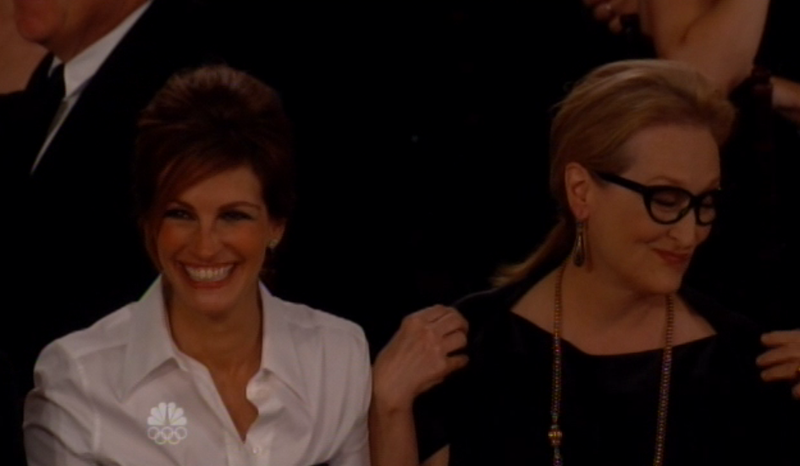 Julia Louis-Dreyfuss makes a fantastic haughty bitch.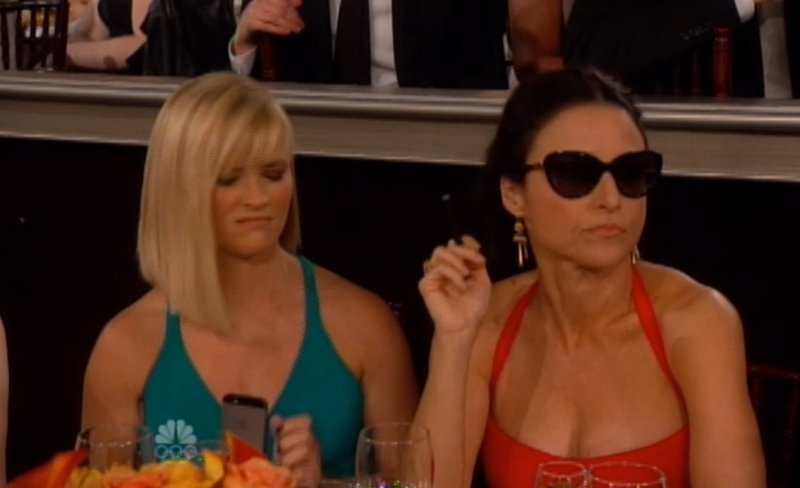 8:11 Our first winner! Jennifer Lawrence now has an award for saying "don't put metal in the science oven."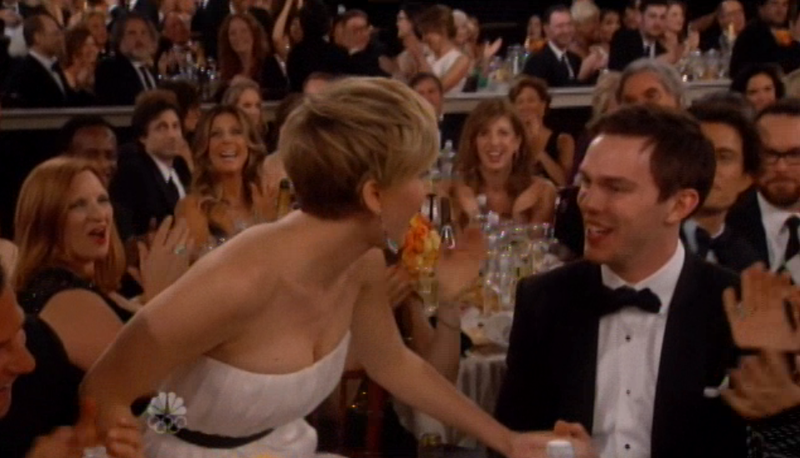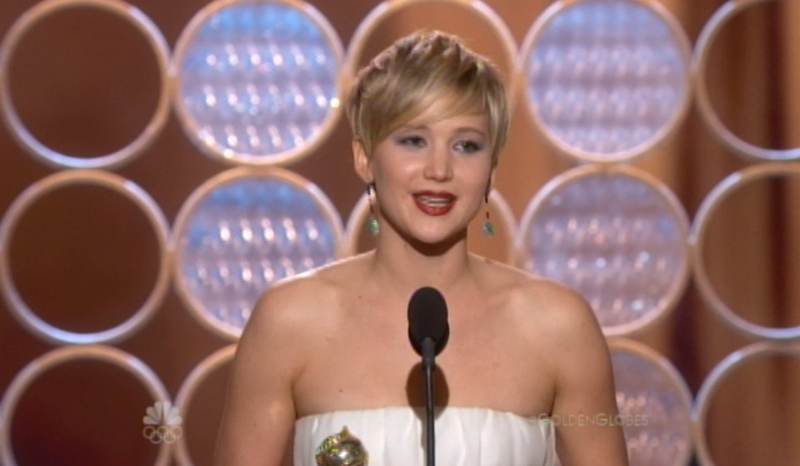 Lupita Nyong'o, #12YearsASlave, is the only woman of color nominated in any film acting category at the #GoldenGlobes #NotBuyingIt

— Miss Representation (@RepresentPledge) January 13, 2014
So… Lupita didn't win. Not surprised, really, but it's pretty shameful.
8:26 Elisabeth Moss wins for Top Of The Lake, Jessica Lange plots her demise.
Whoever wins should leave a trail of bread crumbs for whoever's next. The route to the stage has proven to be problematic. #GoldenGIobes

— yvette nicole brown (@yvettenbrown) January 13, 2014
If you don't stop talking after the 2nd song when you're accepting your award, they drop that dubstep beat on your ass #GoldenGIobes

— Matt McGorry (@MattMcGorry) January 13, 2014
8:36 Jonah Hill and Margot Robbie got the wrong teleprompter lines and were very cute about it.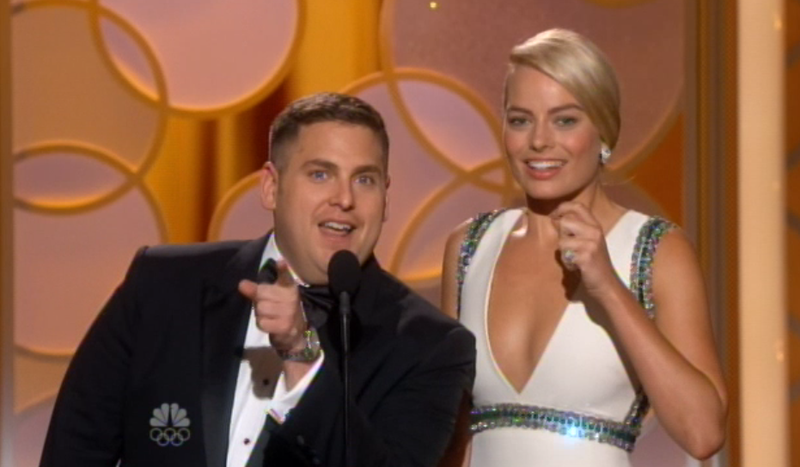 But then Paula Patton was attacked by a giant sea slug. And no one saved her.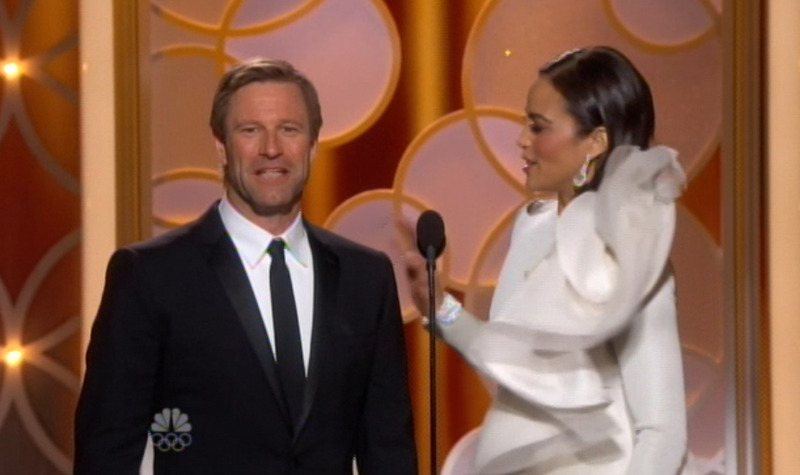 Aaron Paul gives Breaking Bad fans just what they need: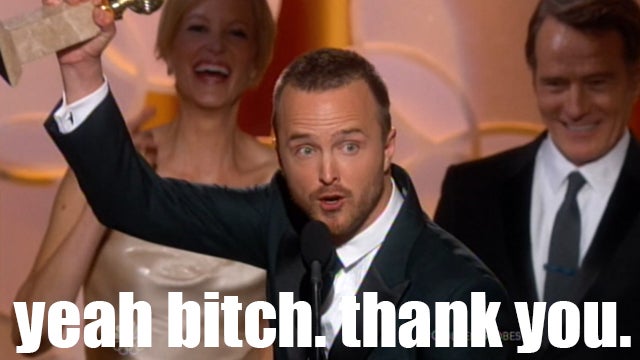 The path to the stage tonight pic.twitter.com/Y45D85DHsn

— BuzzFeed (@BuzzFeed) January 13, 2014
ANOTHER man bun? Man updo? Told you: The future of manliness is feminine. (It's Alex Ebert, winning for Best Original Score for All Is Lost.)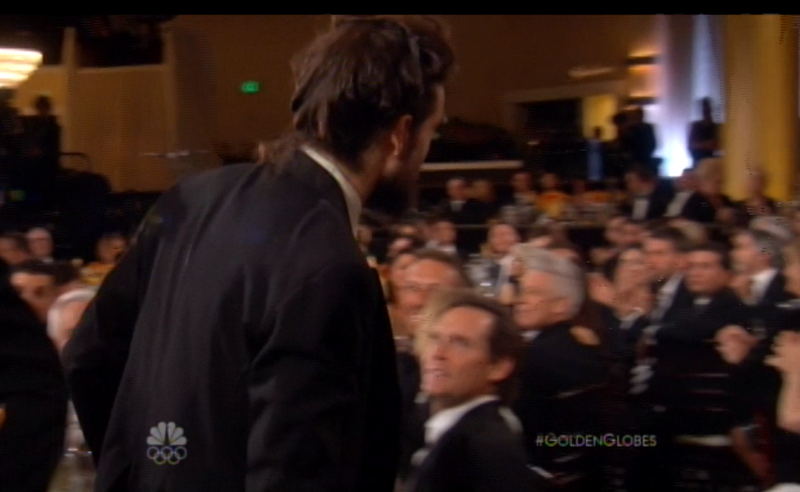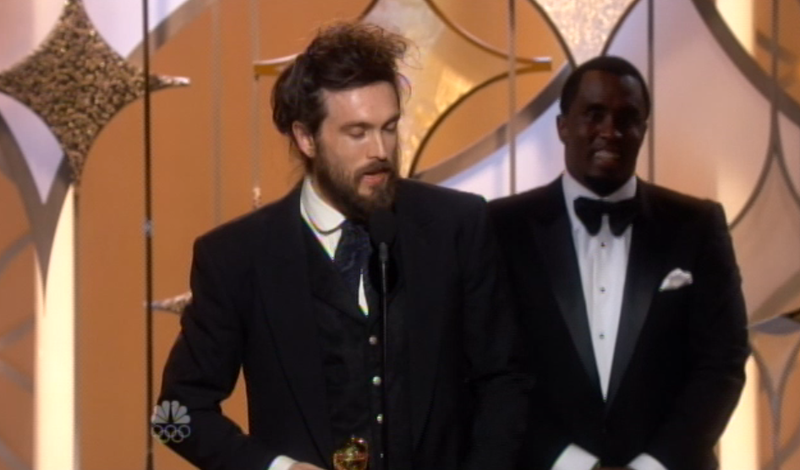 9:04 Feels like a long time since we've seen Tina and Amy. Are they drinking? Changing outfits? Taking selfies?
9:07 RDJ is looking fanfuckingtastic.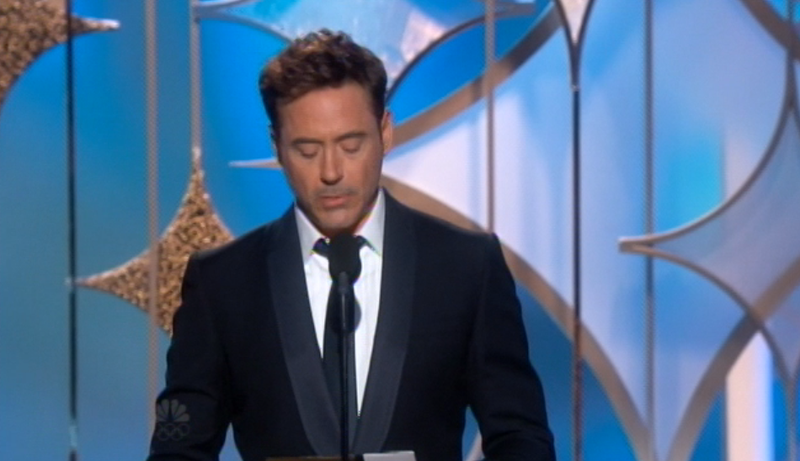 9:15 OH MY GOD TINA FEY'S ADULT SON RANDY!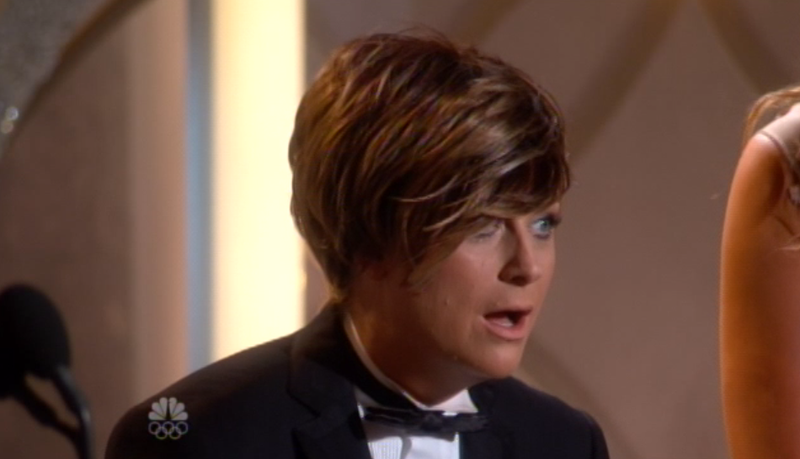 AMY IS AMAZING.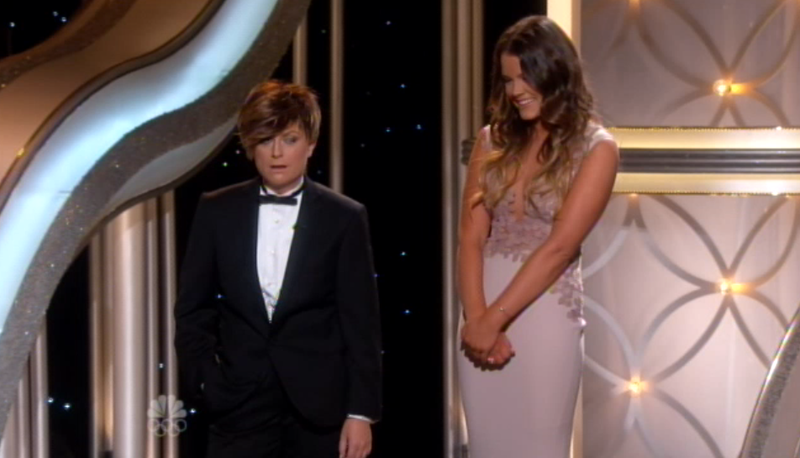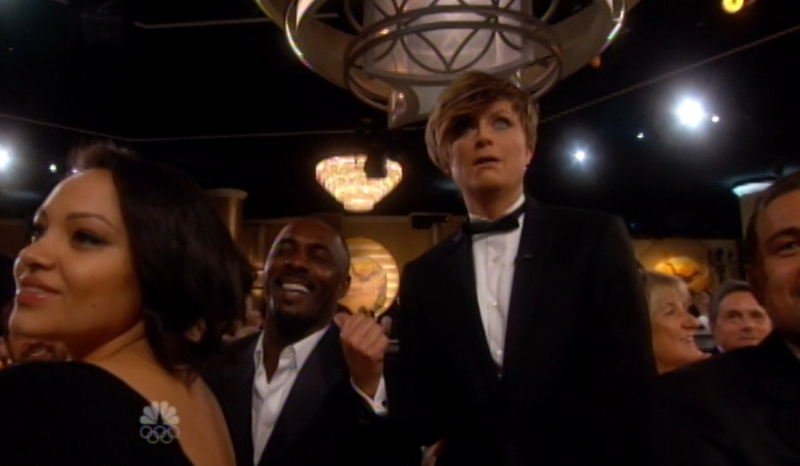 Oops of the night: Robin Wright's boob tape.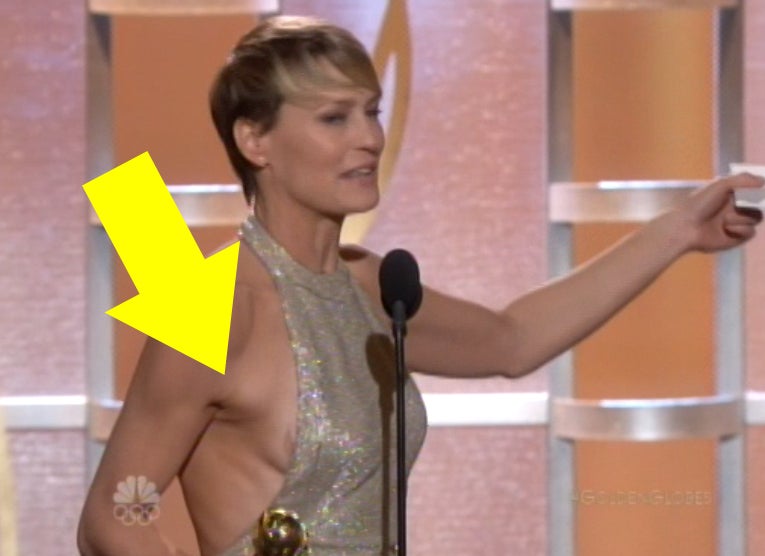 9:23 Jared Leto wins for his amazing performance in Dallas Buyers Club.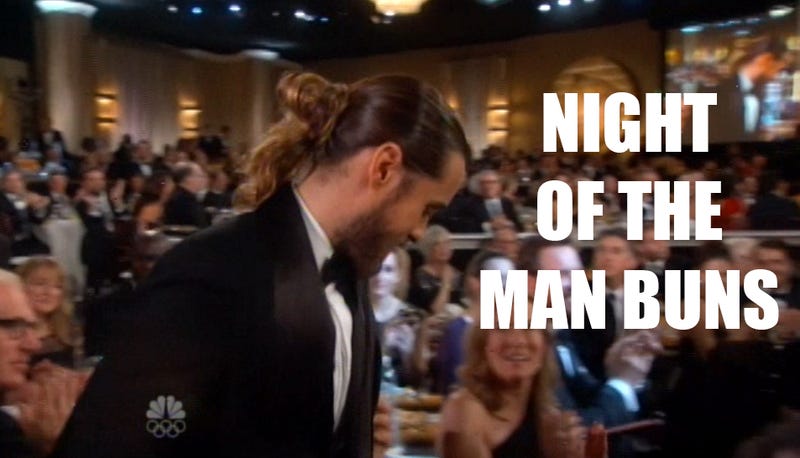 I saw the movie yesterday and I'm still thinking about all the visible ribs and jutting elbows and hip bones.
Emma Thompson FTW.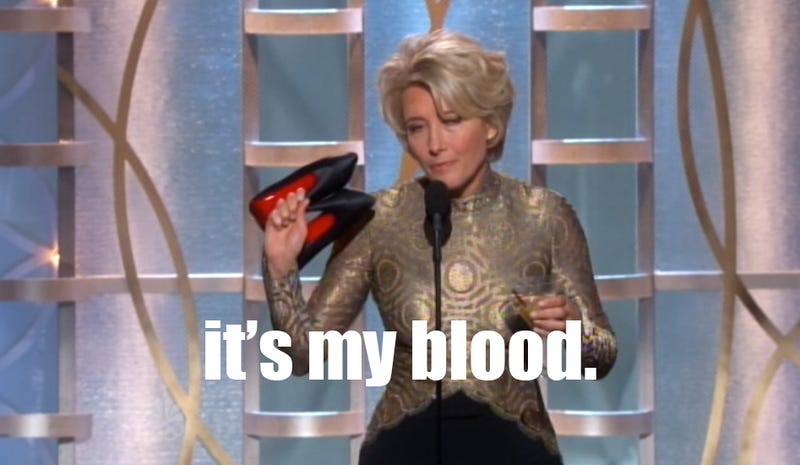 Breaking news from Orange Is The New Black's Natasha Lyonne: There are free cigarettes in the smoking section.
No one should wear purple sunglasses. Indoors or outdoors. Like. Ever.

— taran killam (@TaranKillam) January 13, 2014
9:42 Something deeply terrible has happened, and it involves Orlando Bloom's hair. A moment of silence, please.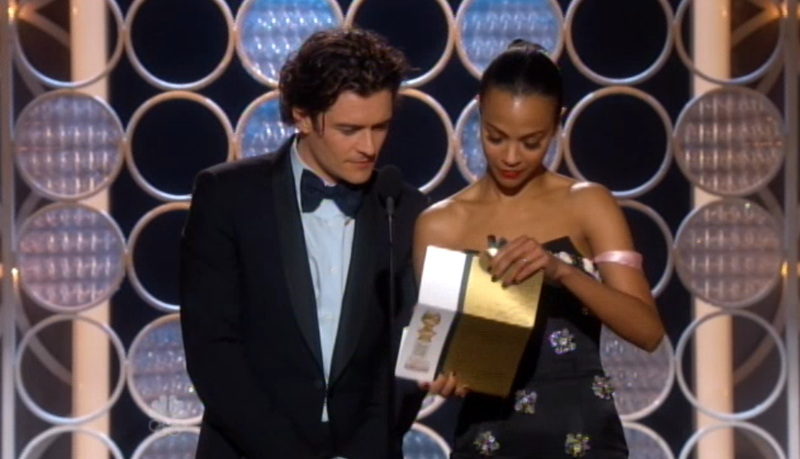 9:43 Amy and Tina have reappeared, with Golden Goblets.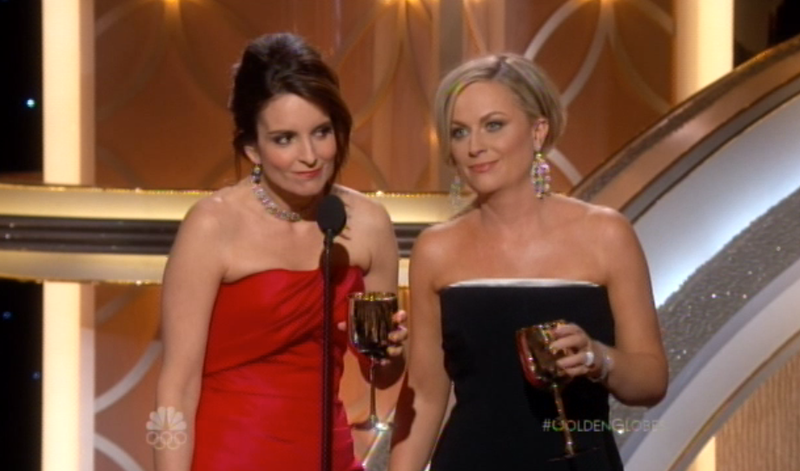 OH LOOK HERE ARE YOUR BOYFRIENDS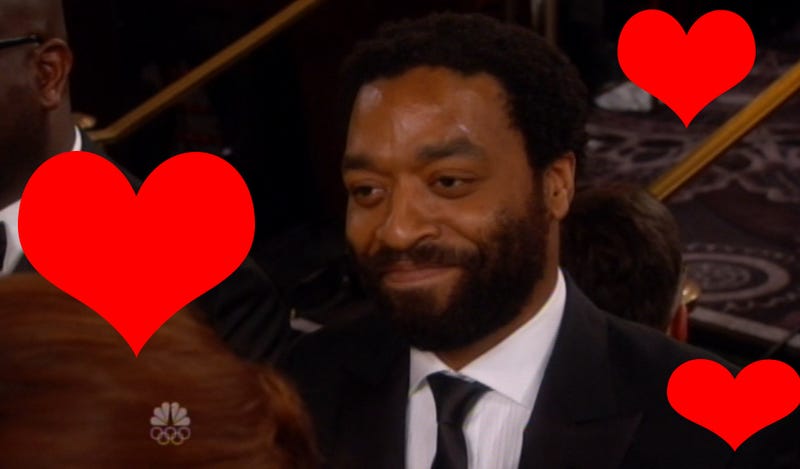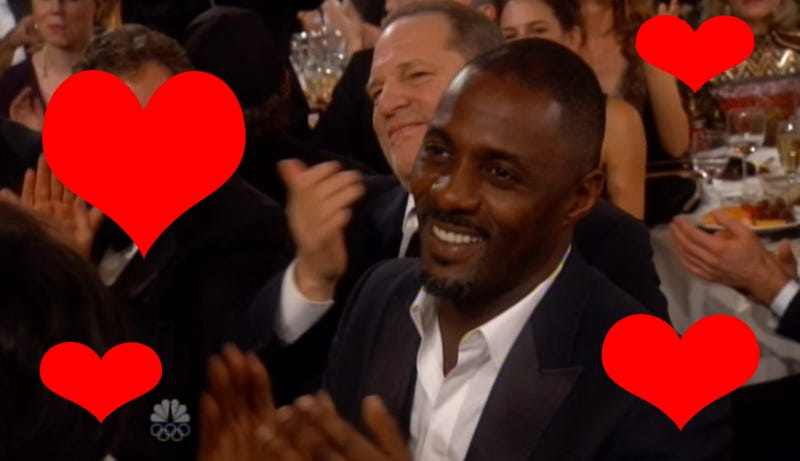 9:56 AMY!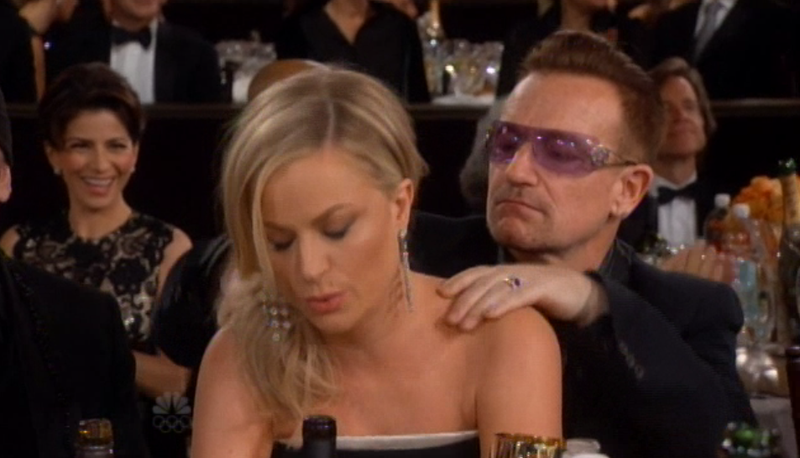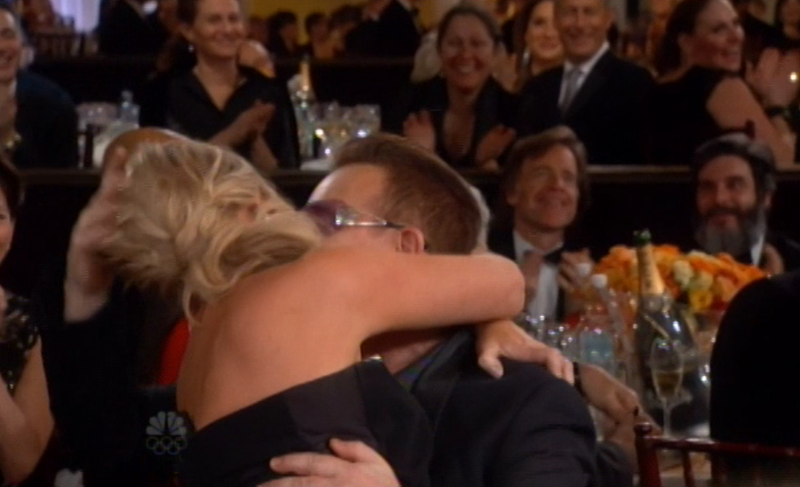 What criteria are you looking to for best actor categories? Really. #GoldenGlobes

— jesseWilliams. (@iJesseWilliams) January 13, 2014
10:09 This woman looks astounding. Gorgeous. Spectacular.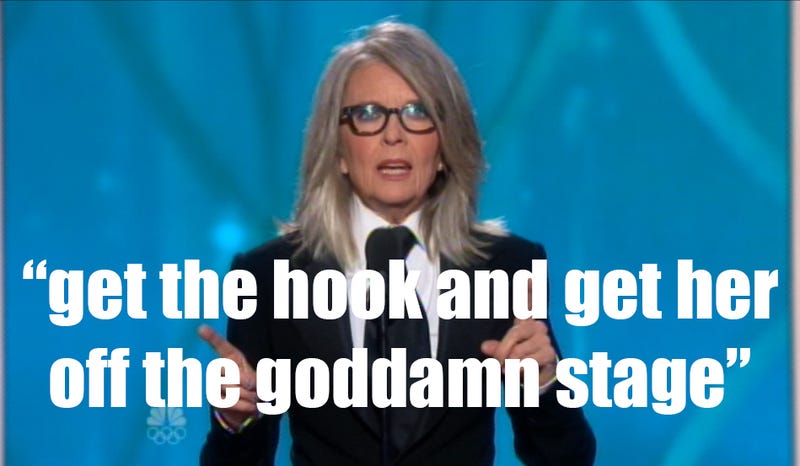 Time to grab some icecream & switch over to #GIRLS

— mia farrow (@MiaFarrow) January 13, 2014
Nite all

— mia farrow (@MiaFarrow) January 13, 2014
Mia Farrow does not give one shit about Woody Allen receiving an award.
First of all: who cares. Secondly: congratulations. Third of all: see and grow.

— jesseWilliams. (@iJesseWilliams) January 13, 2014
10:28 That was cool how Jack Dawson dedicated his award to an old flame.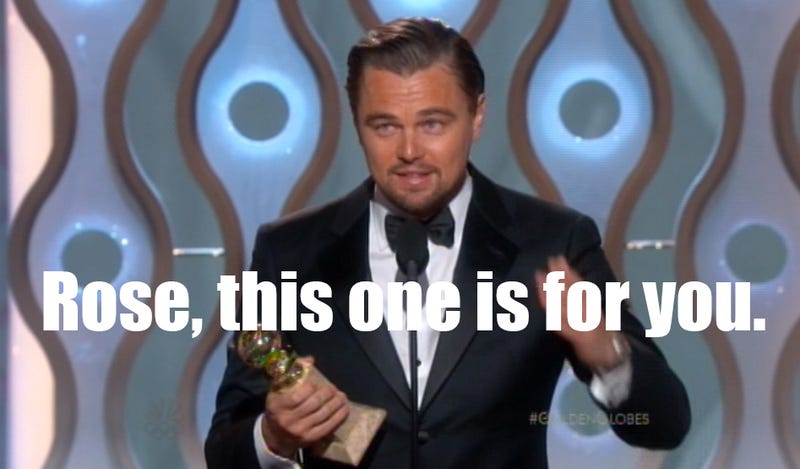 Hey @TaySchilling & @uzoaduba - we're waiting for you& @lauraprepon's phone is broken. pic.twitter.com/WHesfNnBWw

— natasha lyonne (@nlyonne) January 13, 2014
Playing "Asian Spotting" while watching the Golden Globes is like the most boring game ever.

— Angry Asian Man (@angryasianman) January 13, 2014
10:43 How are you guys holding up? I am full of pizza and disappointment.
10:45 Tina Fey just called Leo out for being a modelfucker. This show rules.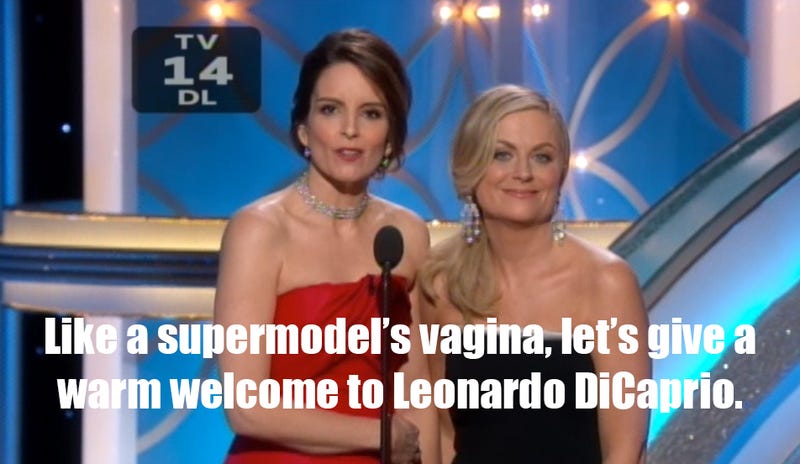 Cate Blanchett just took it old school and mentioned Judy Garland and barbiturates. Hollywood!
10:56 Johnny "Dorian Gray" Depp.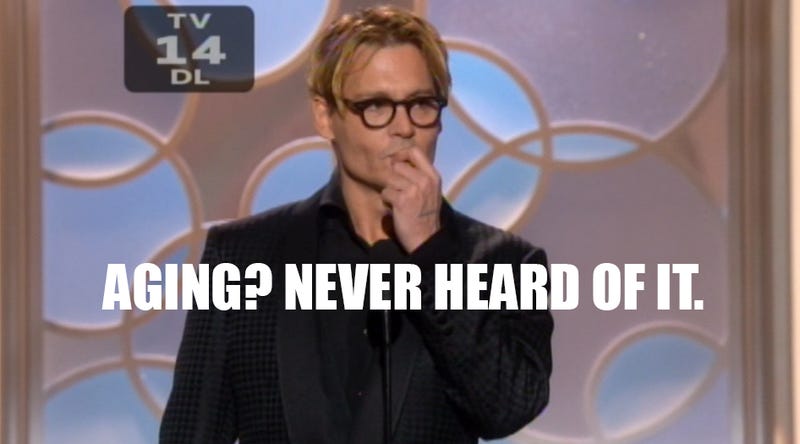 10:57 12 Years A Slave wins for Best Motion Picture, Drama. And yet no wins for Lupita or Chiwetel. Hmm. Interesting.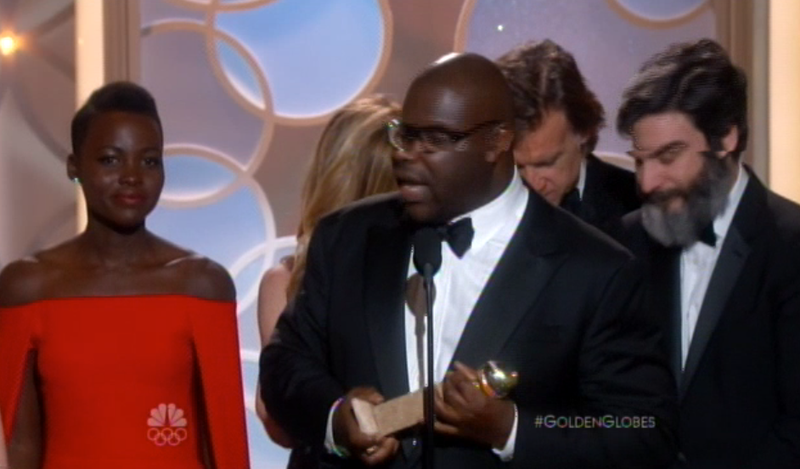 Anyway, there you have it. Remember: There are no losers, except for poor Paula Patton, who was devoured by a sea slug. Good night! Thanks for watching with us!