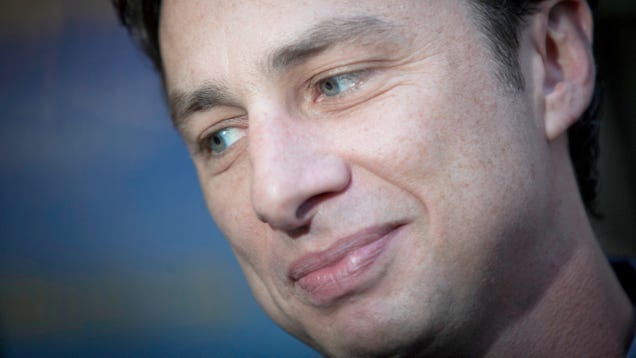 In today's Tweet Beat, John Stamos remembers the old days, Laura Benanti is as cool as you thought and Zach Braff is just trolling.
He was begging me to take him RT @MichaelAusiello: FYI: This is what a Smurf-napping looks like. (Nice try @DuleHill) pic.twitter.com/AQTivun4mP

— Dulé Hill (@DuleHill) December 6, 2013
Proof men run the media: I saw Scarlett Johansson's breasts after cell phone pix were leaked & I can't read the uncensored Gwyneth VF piece?

— Julie Klausner (@julieklausner) December 6, 2013
I admire politicians. Mostly for not caring that people don't admire them. I think that's admirable.

— Hugh Laurie (@hughlaurie) December 6, 2013
hey GF;

I've got a "candy crush" on you... c hash tag The Sweetest Tooph http://t.co/395JyN1Vj5

— Charlie Sheen (@charliesheen) December 6, 2013
@RealSMG Love you too!

— Robin Williams (@robinwilliams) December 6, 2013
Damn! That's the 3rd white person I've seen get pulled over today. #StopTanning

— Damon Wayans Yunior? (@wayansjr) December 6, 2013
anta to "come" down my "chimney".
— Nick Swardson (@NickSwardson) December 6, 2013
Elton John's words in Russia moved me!

— Boy George (@BoyGeorge) December 6, 2013
I read a little bit of the @BookOfJezebel before bed every night & it is genuinely educational & fun & good.

— rob delaney (@robdelaney) December 6, 2013
Your need to make every news topic into a joke about yourself is pathological. RT @MiaFarrow The Von Traps make my fam look almost normal

— Dan D'Addario (@DPD_) December 6, 2013
Fuck @PasteMagazine. Love, Marc

— marc maron (@marcmaron) December 6, 2013
Saw gossip site this morn- Why all this hating? Was never that way in the old days. We're all in this together. the internet is like fire-

— John Stamos (@JohnStamos) December 6, 2013
You and me both! Ha!

— Allison Janney (@AllisonBJanney) December 6, 2013
#the grinch Tonight MAYOR OF WHOVILLE my finest hour Honored Then San Diego #performing your life Still honored

— Jeffrey Tambor (@jeffreytambor) December 6, 2013
Almost everything is better moist.

— Zach Braff (@zachbraff) December 6, 2013
A selfie on the beach as dawn breaks over Boston (my dog, that is). My how she's grown. pic.twitter.com/3va3HSZHz7

— Kevin Spacey (@KevinSpacey) December 6, 2013
Christmas tree lights are why we have gun laws.

— Lizz Winstead (@lizzwinstead) December 6, 2013
So appropriately everyone loved @LauraBenanti tonight. We shared a dressing cube and this was in her shoe all evening pic.twitter.com/Mui10keZ20

— Ariane Rinehart (@arianerinehart) December 6, 2013
Level complete. pic.twitter.com/uVMd6ESHeU

— Simon Pegg (@simonpegg) December 6, 2013
Image via Carlo Allegri/Invision/AP